The electric BBQ is becoming more and more popular, and that is not surprising when you consider the advantages of this way of barbecuing. In this blog we tell you all the ins and outs about the electric BBQ!
If you have a small balcony or (roof) terrace or would rather not barbecue with charcoal or gas, then an electric barbecue is a good and safe choice for you! Just put the plug in the socket and you can start grilling within 5 minutes! The temperature can be set exactly and therefore is easily adjustable. You will also never need to have gas or coal, which is handy and also cheaper in consumption!
WHAT IS AN ELECTRIC BBQ?
An electric barbecue works with electricity. It is not only an easy, but also a very safe way to barbecue, as you do not work with an open fire – smoke and blowing ash will never be a bother! An electric barbecue is therefore very suitable for a balcony or a roof terrace. A heating coil in the barbecue heats up the grill within a few minutes. After use, you can easily clean the electric BBQ.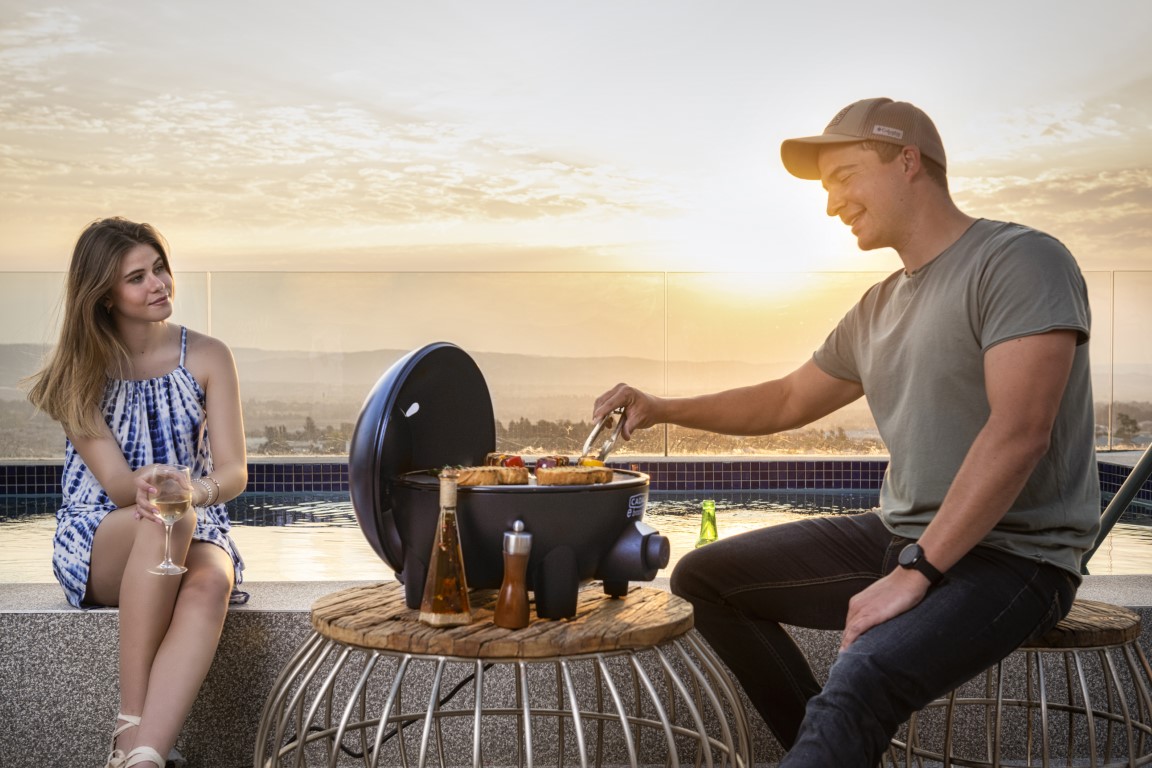 ELECTRIC BBQ: IDEAL FOR THE BALCONY
This safe way of barbecuing makes an electric barbecue very suitable for the balcony or roof terrace. The lack of being allowed to have an open fire means that this is sometimes the only way of barbecuing that is allowed by landlords or VVE's of apartment complexes. It makes sense that the electric BBQ is becoming more and more popular!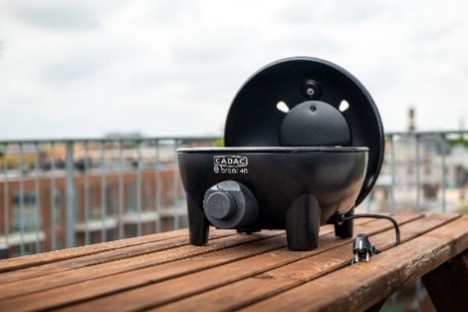 CONVENIENT TABLE BBQ
Most electric barbecues can also be used as a table BBQ. Thanks to its small, handy size and light weight, you can place it on a table quickly and easily. You can also easily take this table barbecue with you on holiday.
GAS, ELECTRIC OR CHARCOAL BBQ: ALL DIFFERENCES AT A GLANCE!
The different types of barbecues all have their advantages and disadvantages. With the help of the overview below you will quickly gain insight into which BBQ is most suitable for you!
| | | | |
| --- | --- | --- | --- |
| | Electric BBQ | Gas BBQ | Charcoal BBQ |
| Quick start grilling | V | V | - |
| No smoke formation | V | V | - |
| Easy to carry | V | V | - |
| Suitable for balcony or roof terrace | V | V | - |
| Camping barbecue | V | V | - |
| Cheap energy source | V | - | - |
| Easy to clean | V | V | - |
| Infinite energy source | V | - | - |
| Uniform temperature | V | V | - |
| Authentic smoky taste | - | - | V |
| No power socket needed | - | V | V |
More info |
More info |
More info |
PROS AND CONS OF AN ELECTRIC BBQ
The big advantage of an electric barbecue is the quick and even temperature release. This table barbecue is also ideal for a (small) balcony. Cleaning an electric barbecue is "a piece of cake" and it cools down in no time. A disadvantage of an electric BBQ is that there must be a power socket available.
ADVANTAGES OF ELECTRIC BBQ
Quick start with barbecuing. No hassle with gas canisters or charcoal
Safe and easy to use
Easy to clean
No smoke or blown ash
Even temperature: can be set precisely
Affordable and infinite energy source
Cools down quickly
CONS OF ELECTRIC BBQ
Depending on electricity / socket
Less authentic grill flavor (can be solved by using the Smoker Box)
A SMOKER BOX FOR EXTRA TASTE EXPERIENCE
Real barbecue fanatics claim that the barbecue experience on an electric BBQ does not come close to that of charcoal. The smoky flavor is indeed missing, but that can easily be solved by using a Smoker Box. The structure, but also the taste of your meat remains the same.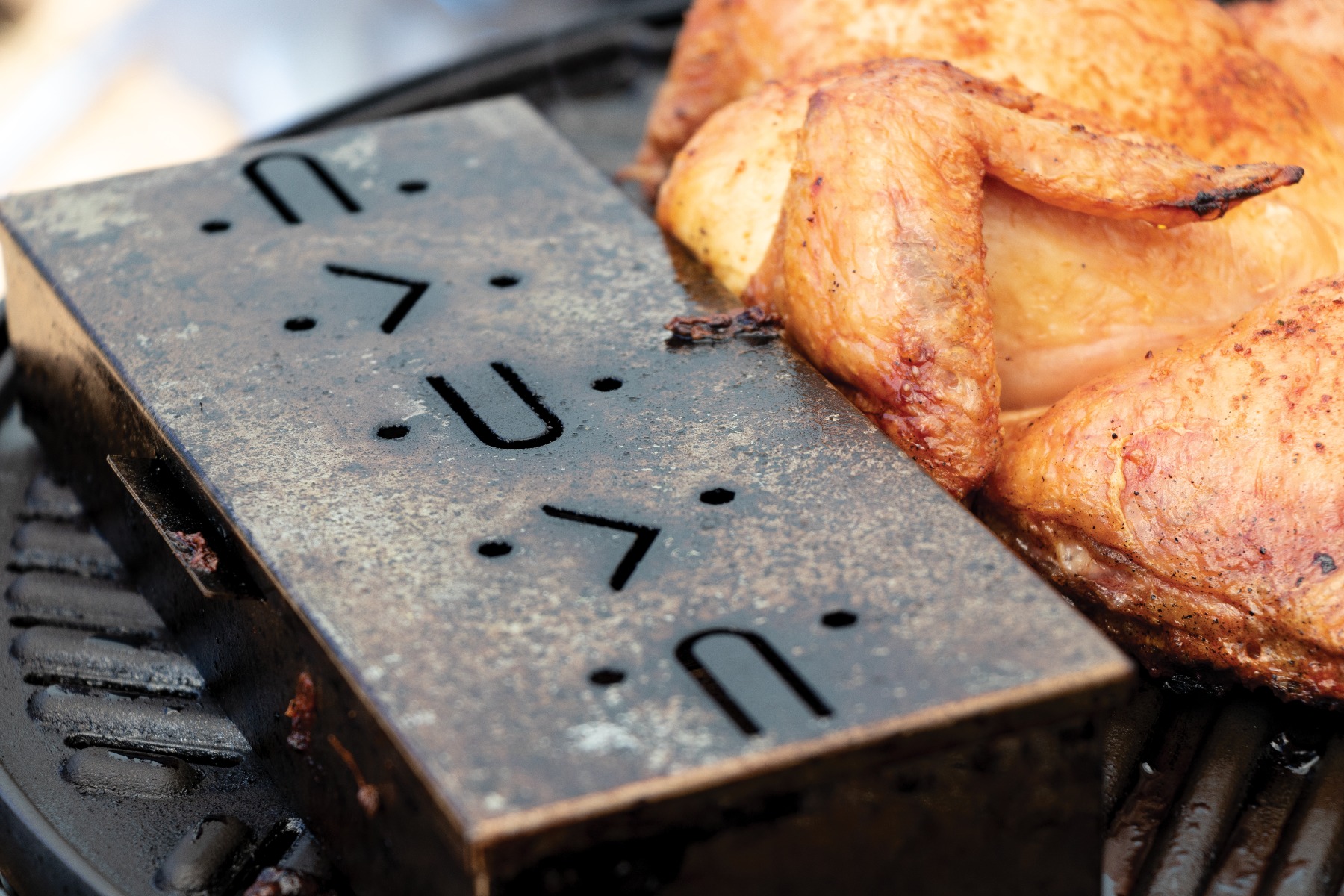 HOW DO YOU CLEAN YOUR ELECTRIC BBQ?
An electric BBQ is quick and easy to clean after use. The powerful heating element already burns leftovers during barbecuing. Afterwards, heat it for a few minutes on the highest setting, this will also burn the last leftovers.
Tip: always remove the plug from the socket before you start cleaning your electric BBQ. Do not use aggressive abrasives or cleaning agents as you can irreparably damage your BBQ with this.
EVERYTHING ABOUT CADAC'S NEW ELECTRIC E BRAAI
The E Braai is a new, electric BBQ from CADAC. The 2.3kW heating coil provides sufficient power and a fast warm-up time. You can start to braai within 5 minutes! Thanks to the unique "Spot-on Grilling Technology", the temperature is measured directly on the grid instead of under the lid.
The temperature of the E Braai is continuously adjustable from 70 to 270 degrees, so it is also suitable for slow cooking. The removable frypot is dishwasher safe and easy to clean. The lid contains 4 ventilation holes for good air circulation and even heat distribution.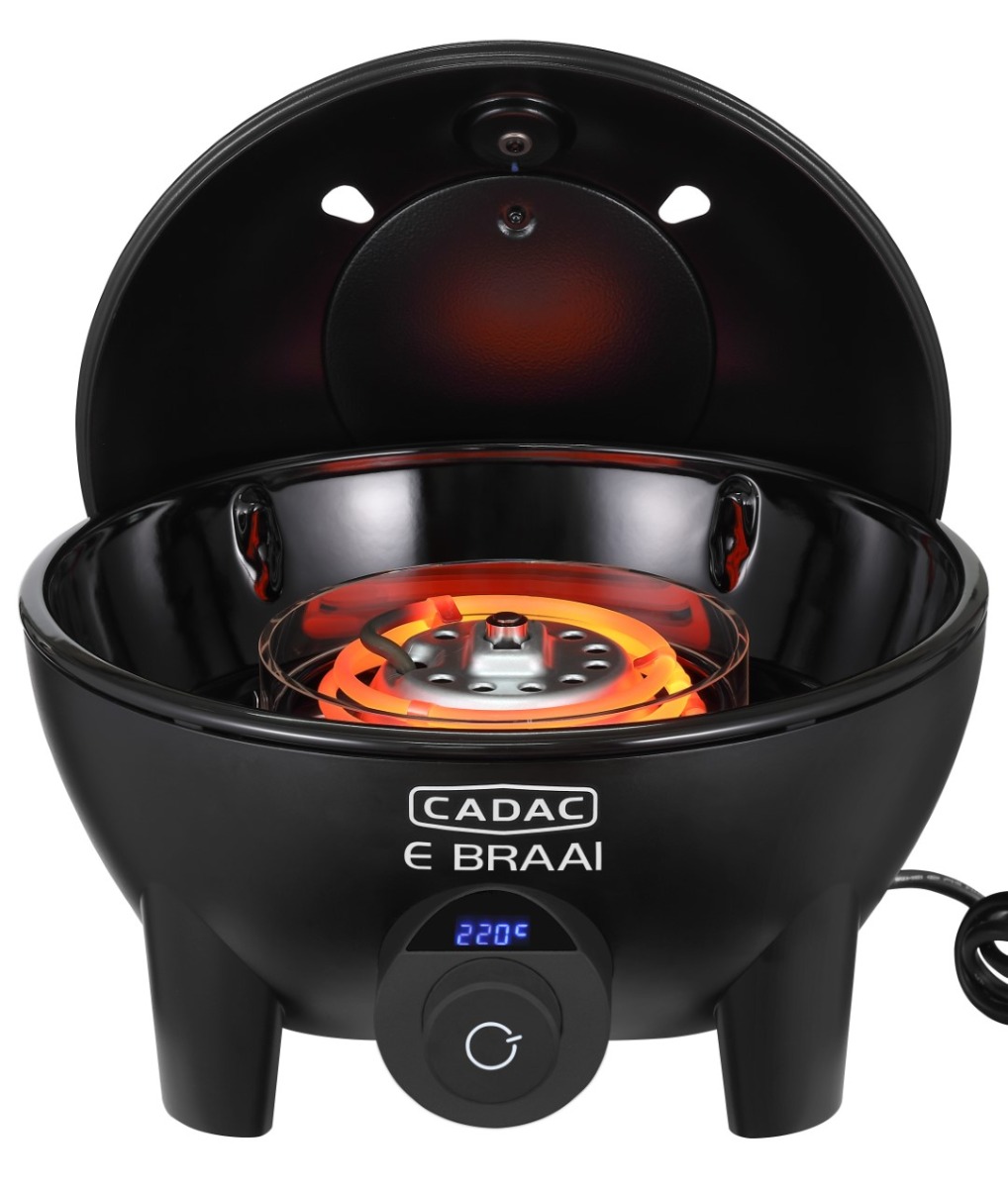 9 EXTRA REASONS TO CHOOSE THE E BRAAI
It is electric – gas bottle and charcoal unnecessary
Infinite energy source
No smoke
Safe to use, no naked flames
Suitable for small balconies and roof terraces
Easy to clean
Cheaper than gas and charcoal
Optional accessories: pizza stone, Paella Pan or Chef Pan
Warranty period 5 years
HOW DO YOU CLEAN YOUR E BRAAI?
The CADAC E Braai is equipped with a removable and dishwasher-safe frypot. The glass ring - which protects the heating coil against cooking fat - is also removable. The heating element can be cleaned once in a while with some grease-dissolving washing-up liquid.
NB: when cleaning, make sure that you do not submerge the heating element in water or hold it under running water.