How do you prepare your barbecue for the winter? Read it in our blog!
BBQ winter-ready
In September we were able to enjoy a number of wonderful late summer days in which the Braai was still lit regularly! In the meantime it seems to be over with the warm weather and it is time to make the barbecue "winter-ready" again. We are happy to give you a number of tips so that you can go barbecuing again with great pleasure next spring.
What to do with the gas hose and gas bottle?
Always disconnect your gas bottle and gas hose. With our Quick Release coupling you can do this with a single click. Immediately check whether the gas regulator and the gas hose are due for replacement: we recommend replacing a gas pressure regulator every 5 years, a gas hose every 2 years.
More info |


Clean the BBQ
It sounds logical but it is not always done; thoroughly clean your barbecue before storing it. Ensure that food and fat residues have been removed. If you have an outdoor kitchen do not forget to thoroughly clean the burners, the fat tray and the flame tamers.
Do you suffer from stubborn stains? Then use the CADAC BBQ cleaner . Always keep your barbecue and accessories dry to prevent mold. Stainless steel parts (if present) are best greased with a "stainless steel polisher" for optimum retention. This cleanses, but also offers protection. That way you will get less rust.
Keep your BBQ dust-free!
Whether you have an outdoor kitchen or a camping BBQ don't leave your barbecue outside all winter. Also not under a cover and / or shelter. Moisture will always end up on and in the barbecue, which does not benefit the life of your BBQ. So put your barbecue inside and use a well-fitting cover . This way you prevent dust, cobwebs and insects from getting into your barbecue. Our camping barbecues are supplied with storage bags so that they remain dust-free.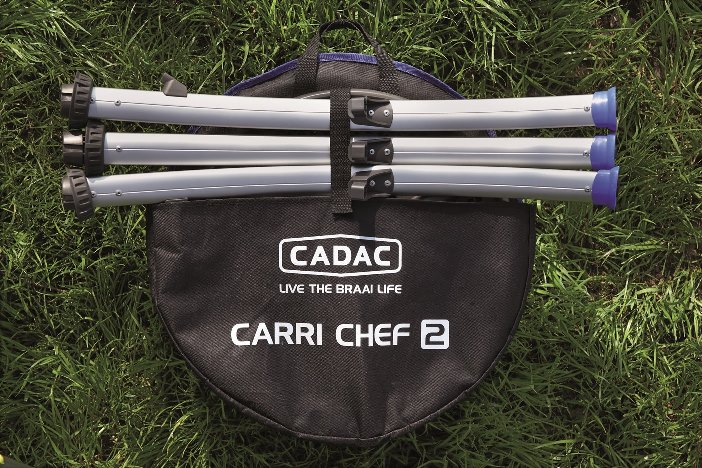 Winterbarbecue
The real Braai fans will not be swayed in the winter from a real winter BBQ! Let your guests know in advance that they are going to barbecue so that they can dress appropriately. Set up heaters and create extra atmosphere with torches, a fire pit and cosy lighting. With a good mulled wine your guests will also stay nice and warm and you can of course put some fleece blankets when it gets real cold. Is it too dark and your BBQ needs some extra lighting, you can use a BBQ Led Light . If it does get too cold or it starts to snow, then a Bluetooth Thermometer can be useful for your meat or fish; you can then keep an eye on your smartphone during the cooking of your meal.