CHARCOAL, GAS OR ELECTRIC?
The first choice to make is the one between charcoal, gas or electric. Charcoal barbecues and camping are not an ideal combination. It is not easy to take a charcoal barbecue with you in your car or camper, but it is also forbidden to barbecue on charcoal at many campsites in Europe. A gas or electric barbecue often offers a solution. It should be noted that an electric barbecue quickly consumes 2400 watts of electricity, which is way too much for most campsites. In addition, it must always be in the vicinity of an electrical outlet. Gas barbecues are therefore the most suitable barbecues to take with you on vacation.
CADAC offers portable barbecues for every family size and for every type of camper.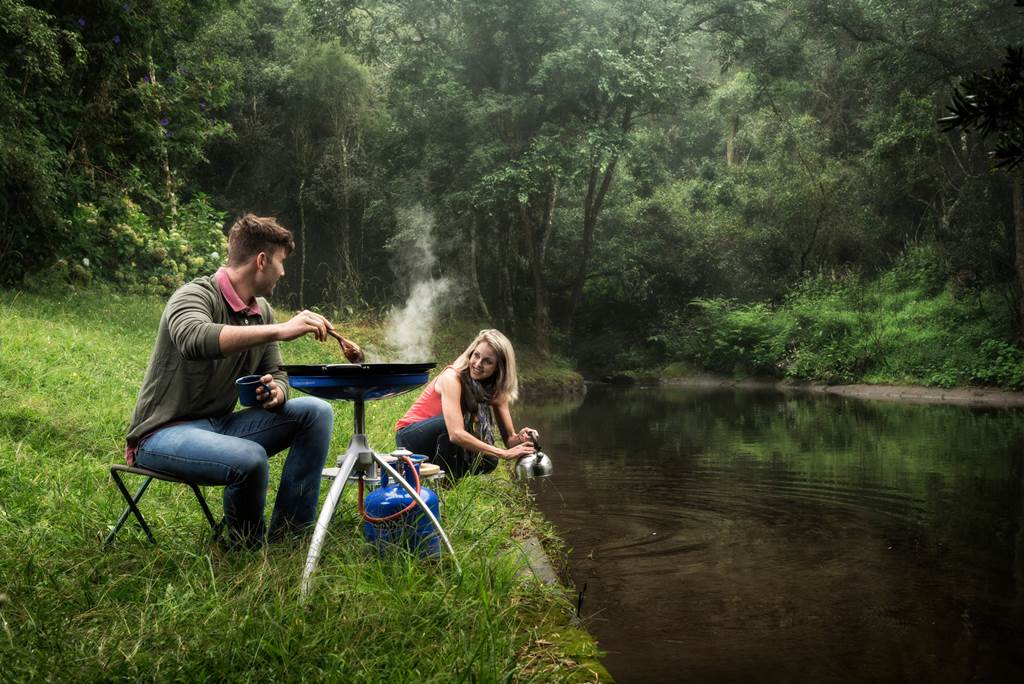 CAMPING BEGINNERS | SKOTTELBRAAI
Are you going to camp for the first time? Should the barbecue be practical, not cost too much and last for years? Then the original Skottelbraai is right for you, or its newer brother; the Paella Braai. These tripods weigh little and are easy to carry thanks to the removable base. It comes with a Skottel or a paella pan, the diameter of which is large enough to prepare anything from potatoes with meat, stir-fries, pancakes or a delicious risotto. That way you can combine simplicity with the convenience of preparing a varied meal.
HAPPY CAMPERS | COMPACT GAS BBQ
Do you mainly cook for two or three people? Or do you have limited space in your car or camper? Then the Safari Chef is a perfect match! With its foldable legs and light weight (less than 4 kg!) you can easily take it with you. The compact size does not hinder its possibilities. This small all-rounder comes standard with a BBQ grid, a flat griddle, a pot stand and a lid, which also serves as a pan when you turn it over.
FAMILIES CAMPING | CAMPING BBQ
If you go camping with your family, you usually cook for around 4-6 people. Preferably the barbecue does not take up too much space when you go by car. Still you want to prepare a complete meal for your family. The Grillo Chef is a handy device with a removable base. You can bake, grill, cook and stew on it and you can easily store it in the included carry bag.
FAMILIES CAMPING | LUXURY GAS BBQ
Are you going to camp with your family, friends or relatives and do you want more luxury? Then choose the Carri Chef. This gas barbecue has screw on legs and a "spice tray" for extra strength. With a diameter of 48 cm, the Carri Chef is not only the largest model in the CADAC camping range, but also the model with the most possibilities! There are 8 different cooking surfaces available, so that you can prepare every imaginable dish on this all-in-one barbecue.
HIP & TRENDY | TABLE BBQ
Do you want to steal the show at the campsite? Want to make your new camping neighbours jealous with a trendy, but versatile barbecue? Then go and buy the latest addition to the CADAC family: the Citi Chef 40. This table barbecue is available in 3 modern colours and is unexpectedly versatile!
PRODUCT COMPARER CADAC BARBECUES
| | | | | | |
| --- | --- | --- | --- | --- | --- |
| | Safari Chef | Grillo Chef | Skottelbraai | Carri Chef | Citi Chef 40 |
| Diameter | 30 | 40 | 50 | 50 | 40 |
| Hamburger index | 6 | 10 | 16 | 16 | 10 |
| Weight | 3,6 kg | 5 kg | 6 kg | 12 kg | 6 kg |
| Number of cooking options* | 7x | 7x | 3x | 8x | 7x |
| Braai type | Table model | Tripod | Tripod | Screw legs | Table model |
* Number of cooking options are the number of available accessories for this type of barbecue, such as a paella pan, pizza stone, baking and grilling plate, etc.