Citi Chef 40
Hip, Compact & Versatile
Features
Available in 3 different colours
Compatible with Citi Chef 40 Modular Tops
High temperature painted dome with thermometer
Easy clean - Removable Fat Pan
Dome hooks to act as windshield & splash-back protector
Carry bag included
Product specifications
Instructions
Dimensions
Height33,4 cm
Width42,2 cm
Depth42,2 cm
Technical info
Approximate weight5,8 Kg
Total heat output2.7 kW
Total average gas consumption196 grams/h
Average operating pressure28-37 / 50 mBar
Article
Article number5610-20-12
EAN6001773114325
Burner system
Automatic piezo ignition
Variable heat setting
Cooking area
ø 38 cm - Pot stand
ø 38 cm - BBQ Top
This is a robust compact and portable BBQ for use as a table top unit. It has a non-stick ceramic coated cooking grill, made from aluminium so there is perfect heat distribution. The fat pan fits inside an outer pan and is easily removed to wash and clean. A pot stand is included so pots, Cadac paella pan or pizza stone can be used.

Warranty
CADAC (Pty) Ltd hereby warrants to the ORIGINAL PURCHASER of this CADAC Gas Barbecue, that it will be free of defects in material and workmanship from the date of purchase as follows:
Valves: 5 Years
Plastic parts: No Warranty
Enamel parts: 2 Years (Only valid if the VE has not been damaged or chipped)
Cast Iron: 5 Years
Painted Frames: 1 Year
Stainless Steel Burners: 2 Years
The warranty will only apply if the unit is assembled and operated in accordance with the printed instructions.
CADAC may require reasonable proof of your date of purchase. THEREFORE, YOU SHOULD RETAIN YOUR SALES SLIP OR INVOICE.
This Limited Warranty shall be limited to the repair or replacement of parts that prove defective under normal use and service and which on examination shall indicate, to CADAC's satisfaction, they are defective. Before returning any parts, contact the customer service representative in your region using the contact information provided with your manual or call 0860 223 220 (RSA only). If CADAC confirms the defect and approves the claim, CADAC will elect to replace such parts without charge. CADAC will return parts to the purchaser, freight or postage prepaid.
This Limited Warranty does not cover any failures or operating difficulties due to accident, abuse, misuse, alteration, misapplication, vandalism, improper installation or improper maintenance or service, or failure to perform normal and routine maintenance, including but not limited to damage caused by insects within the burner tubes, as set out in this owner's manual. Deterioration or damage due to severe weather conditions such as hail, hurricanes, earthquakes or tornadoes, discoloration due to exposure to chemicals either directly or inthe atmosphere, is not cover by this Limited Warranty.
There are no other express warrants except as set forth herein and any applicable implied warranties of merchantability and fitness are limited in duration to the period ofcoverage of this express written Limited Warranty. Some regions do not allow limitation on how long an implied warranty lasts, so this limitation may not apply to you.
CADAC is not liable for any special, indirect or consequential damages. Some regions do not allow the exclusion or limitation of incidental or consequential damages, to this limitation or exclusion may not apply to you.
CADAC does not authorize any person or company to assume for it any obligation or liability in connection with the sale, installation, use, removal, return, or replacement of its equipment; and no such representations are binding on CADAC.
This Warranty applies only to products sold at retail.
To enjoy and ensure longevity of your CADAC product, please refer to the cleaning and maintenance section of the user manual with particular attention to the care of the Stainless Steel.
CADAC ThermoGrill®
CADAC ThermoGrill® causes an even heat distribution, quick heat up time and less gas consumption.
The "U" Grills on the patio ranges and the specially designed grids with integrated flame tamer / heat diffuser for the camping range, traps and distributes the heat evenly which ensures even cooking temperatures, so there are no cold spots on your braai grid.
CADAC barbecues are easy to assemble. Our patio grills can be assembled within 30 minutes, because of its smart construction, a limited amount of spare parts and a clear manual.
Our portable barbecues are ready to use in a minute, no need for any tools.
So buy a CADAC and you will save time to enjoy the braai life!
The burner box of CADAC patio barbecues have clean and smooth inside surfaces made from enamel coated steel or coated aluminium. The Easy Clean System enables water to drain off in a removable fat drip cup. With the telescopic hose the water will flow into a bucket.
removable fat drip cup with telescopic hose

Our cooking tops have a non-stick coating, making them easy to clean. Our portable barbecues have an enameled fat pan that can easily be removed and washed.
Cleaning has never been this simple; just use a sponge and some water with detergent.
removable fat pan for easy cleaning

Most of our cooking surfaces are supplied with a 'CADAC GreenGrill coating'. This ceramic coating is made from organic materials and doesn't contain any toxic substances.
The CADAC GreenGrill is much more durable and harder than normal non-stick coating. It resists higher temperatures, divides the heat better and holds this heat, so less gas is used while grilling.
Cooking tops are very easy to clean with some water and detergent.
CADAC products are known for their MODULAR SYSTEM; our barbecues can be used with many different cooking tops, making cooking in the outdoors even more fun.
With a CADAC you fry more than just a hamburger on your grill!
CADAC MODULAR SYSTEM
One BBQ, endless opportunities
Many different tops available
Easy to swap one for another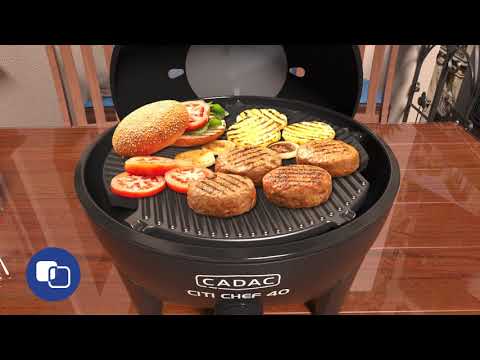 You may also like