Grillo Chef 2
Inspire the chef in you!
Features
Stay Cool Handle
Dome Lid with Thermometer
Ceramic Non-Stick Grill Plate
Removable Pot Stand
Push Button Piezo Ignition
Dovetailed Tripod Legs
Product specifications
Instructions
Dimensions
Height71 cm
Width65 cm
Depth65 cm
Technical info
Approximate weight7.5 kg
Total heat output3 kW
Total average gas consumption218 g/H
Average operating pressure28-37 mBar
Article
Article number5650-20-EU
EAN6001773112659
Burner system
Stay Cool Handle
Porcelain Enamelled Dome Lid with Thermometer
Ceramic Barbecue Grill Plate
Removable Pot Stand
Push Button Piezo Ignition
Dovetailed Tripod Legs
Enamelled Fat Pan
Butane / Propane Compatible
Cooking area
Easy to assemble, use, clean and stow; the Grillo Chef 2. The perfect barbecue for a spontaneous getaway, the Grillo Chef 2 enables unlimited opportunity for adventure.
This mid-sized, lightweight barbecue range comes complete with a push button piezo ignition and finely adjustable temperature control, ensuring you to get cooking perfectly in minutes. It is robust, compact and portable; perfect for barbequing and grilling meat, fish or vegetables.
Explore with the Grillo Chef 2.
Your CADAC barbecue is guaranteed by CADAC for a period of 2 years against factory fault.
CADAC ThermoGrill ®
CADAC ThermoGrill® causes an even heat distribution, quick heat up time and less gas consumption.
The "U" Grills on the patio ranges and the specially designed grids with integrated flame tamer / heat diffuser for the camping range, traps and distributes the heat evenly which ensures even cooking temperatures, so there are no cold spots on your braai grid.
CADAC barbecues are easy to assemble. Our patio grills can be assembled within 30 minutes, because of its smart construction, a limited amount of spare parts and a clear manual.
Our portable barbecues are ready to use in a minute, no need for any tools.
So buy a CADAC and you will save time to enjoy the braai life!
The burner box of CADAC patio barbecues have clean and smooth inside surfaces made from enamel coated steel or coated aluminium. The Easy Clean System enables water to drain off in a removable fat drip cup. With the telescopic hose the water will flow into a bucket.
removable fat drip cup with telescopic hose

Our cooking tops have a non-stick coating, making them easy to clean. Our portable barbecues have an enameled fat pan that can easily be removed and washed.
Cleaning has never been this simple; just use a sponge and some water with detergent.
removable fat pan for easy cleaning

Most of our cooking surfaces are supplied with a 'CADAC GreenGrill coating'. This ceramic coating is made from organic materials and doesn't contain any toxic substances.
The CADAC GreenGrill is much more durable and harder than normal non-stick coating. It resists higher temperatures, divides the heat better and holds this heat, so less gas is used while grilling.
Cooking tops are very easy to clean with some water and detergent.
CADAC products are known for their MODULAR SYSTEM; our barbecues can be used with many different cooking tops, making cooking in the outdoors even more fun.
With a CADAC you fry more than just a hamburger on your grill!
CADAC MODULAR SYSTEM
One BBQ, endless opportunities
Many different tops available
Easy to swap one for another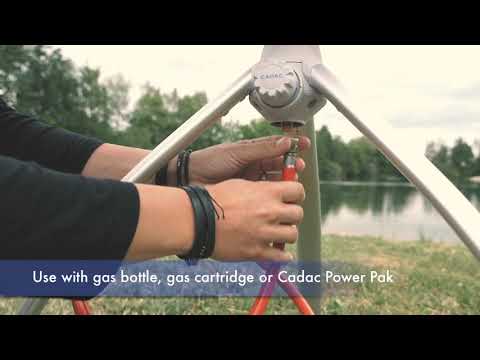 Grillo Chef 2
You may also like